BEAUTIFUL PILLOW CASE IDEAS FOR HOME
Renting a house or living in your own house  does not stop you you from maintaining the beauty of your property. You will enjoy the delight of having a welcome area for yourself each time you enter your house. Decorating with soft furniture is a quick and easy method to make your house seem cosy and cheery.
In this scenario, using cushions will help you design your home either simply or distinctively without having to spend a lot of money or effort. It's all about what you decide to do. Any plain, embroidered fabric will do. One can get it from a store or spend a significant sum of money on ready-made cushions. You may have the option to manufacture or purchase a cushion for yourself for very little money. Choice is all yours !
IDEAS FOR CANDIED DONUT CUSHION
Extremely soft and healthy touch sensation, high color fastness, and lint-free feature are all provided by superior material and safe manufacturing technique. use as a pillow, bolster for any body part, sofa/chair/back/seat cushion, when sleeping, watching TV, while reading in bed, or as a plaything or doll, among other things. Donut Cushion Pillow is a lovely, amusing, and delectable design that instantly makes you fall in love. The fabric texture and stuffing are really soft and pleasant, making this gift a highly useful, warm, and adorable birthday present. Will be loved by kids. You may also offer this cushion as a present to someone who like sweets or donuts.
source : www.abeautifulmess.com
3D  FLORAL CUSHION :
Gentle curve piecing, which is a fantastic introduction to the technique because there isn't much pressure to be precise because you're simply sewing small strips together. The flowers are made using a little weaving as well as another technique. You can use these methods to use your recycle cloth in making 3D flower  cushions for your home .  Although it looks beautiful in very neutral colors, it would also look nice in more abstract hues. These flowery cushions look lovely in newlyweds' rooms or living rooms. You might offer it as a present to your friends that enjoy flowers.
source : www.alisaburke.blogspot.com
DIY IDEA FOR WATERCOLOR PILLOW
Watercolor paints are digitally printed on a cushion cover. It's time to give your house a straightforward yet beautiful makeover! These very luxurious accent pillowcases will give your decor a fresh new hue! These distinctive patterns go beautifully with the many colour schemes of your loveseat, sofa, couch, bed, bedding, carpets, curtains, porch, and other décor items. These waterproof cushion coverings are ideal for use as an ornament anywhere you want, including your house, workplace, playroom, children's room, café, study, studio, club, bar, farmhouse, automobile, and more.
source : www.brit.com
CUTE MACARON PILLOW
Pillow like a genuine macaron cookie from France. It was created from soft, velvety minky fleece in a pretty pink hue. There is a white "cream" made of lovely cloth between the top and bottom. This cushion has distinctive elements that were created only for it to make it unique and lifelike. The cushion is a soft, adorable macaron. Wonderful toss pillow. It is a round seat cushion in a case that may be used as a decorative pillow for a sofa, a bedroom, or even an office. A kid's ornamental Macaron pouf resembles a filling-filled French biscuit and looks delectable.
source :  www.camelotfabricsblog.comhttps://www.camelotfabricsblog.com/2014/07/01/how-tos-day-macaron-pillows-tutorial/
POM POM CROSS STICH  CUSHION
Your basic toss pillow from the shop starting to boring you? In search of a little dressing up? The answer is simple, cheap, and easy: add a pom pom cushion border! Choose a vibrant, lively colour to enhance or compliment the hue of your pillows. The cheerful and colourful Positive Pom Pom Pillow serves as a reminder that everything is possible with a positive outlook. Making this crochet design for a cushion was so much joy for me. Instead of having all the bells and whistles that I had envisioned, this pillow just has Pom Poms. So what's happier than pom poms, right? This yarn transitions beautifully and is lovely! It served as a wonderful backdrop for my Good Vibes cross stitch pattern.
source : www.diycandy.com
DIY IDEA FOR VELVET CUSHION
This gorgeous  velvet cushion cover is extremely comfortable and soft, and it has a great quilted design. It is even cosier due to its short, delicate fringes. With the help of this chic Quilted Velvet Cushion, add some new wave minimalism to your room. This vivacious item is the ideal scene stealer because to its straightforward, geometric look and a delightfully soft touch. This cushion, which is softer than soft, ingeniously combines elegance and relaxation with a simple design, a burst of color, and comfort.
source : www.abeautifulmess.com
IDEA FOR MONOGRAM CUSHION
By adding a timeless and lovely monogram throw pillow cover to any area in your house, you can stay up to date with home décor trends! Use this beautiful cushion to highlight furniture or bedding by placing it on a couch, chair, bench, or bed. This personalised accent throw cushion will stand out and give your space a polished look. Each design is ageless, making it easy to fit it into the décor of your current house. Cleaning certain areas is advised. If the pillow cover has to be washed, turn it inside out, use the gentle cycle, and lay it flat to dry. If necessary, iron the other side. Do not iron the design over.
DIY ENVELOP PILLOW
Do you enjoy decorative pillows? But, purchasing new pillows for each season may not be something you want to spend a lot of money on. Here's a cheap method for creating simple envelope pillow coverings. Even a novice may easily assemble these envelope pillows. Because there is no closure (zipper, button, or velcro), stitching these covers is really simple. Only a little more fidgeting is needed to fit the pillow shape inside the packet or envelope, but they still appear to be entirely covered. One of the simplest ways to change your design for every season is using pillows. With these simple envelope pillow covers, I adore creating and sewing quick pillow covers.
source : www.raegunramblings.com
DIY POM POM PILLOW
This No Stitch Pom Pom Pillow is doable even for those craft-challenged people like myself! Once you've gathered your materials, it simply takes a few minutes, but it appears to have cost a fortune in a high-end décor shop. We adore this no-sew undertaking! To liven up any space in your house, create a cushion with a bright pom pom or tassel accent. It's so simple. Here's a quick and simple DIY project that you can complete. Also, this project doesn't need stitching, which is fantastic if, like me, you don't have a sewing machine. Tassels or pom-poms may be used to create these vibrant throw pillows. They're entertaining in a kid's or teen's room, on a sun porch, or anywhere you want to add a splash of vibrant color. There are a tonne of options.
source : www.diycandy.com
DIY IDEA FOR HAND KNIT PILLOW
This DIY knitting kit makes a round pillow that is made by HAND. For this cushion, no needles are required. We'll teach you how to hand knit using vegan wool that is really thick. The cushion is adorable and really fluffy. I believe that adding warm, knitted materials may enhance any winter décor. My favourite methods to incorporate hand-knitted objects into my décor are blankets and pillows. Yet occasionally even the most simple designs may be stunning. The nicest thing about chunky and super chunky weight yarns is how quickly they knit up, which has made them quite popular in recent years. Every space in your home will benefit greatly from its inclusion.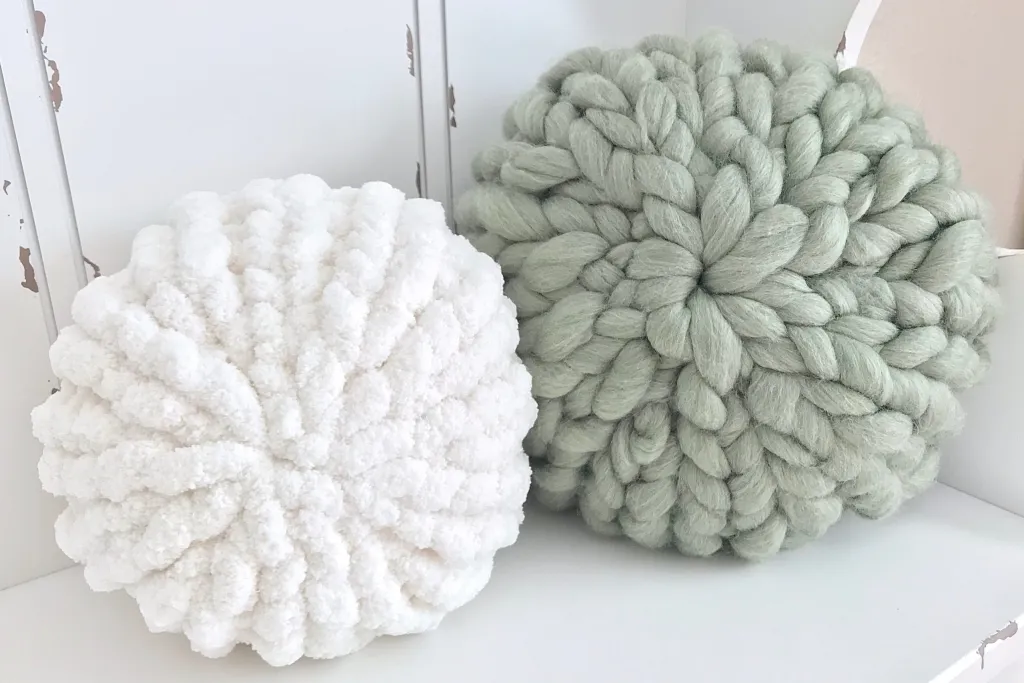 source : www.shescraftyandsheknowsit.com
DIY MOUNTAIN PILLOW
These Mountain Pillows, created for the little adventurer in your life, enable kids to cuddle up to soft cotton as they daydream about far-off destinations. The unusual throw cushion is formed like a mountain and has a gender-neutral turquoise color with white, snow-capped peaks. Create these unique pillows with a woodland motif for your living room, bedroom, or nursery. Given that we all know how strong a mountain is as a best supporter, this charming little cushion would be a wonderful gift for friends, relatives, visitors from abroad, or anyone else who could need a little encouragement. When you need a little bit of comfort, it also works well as a travel cushion.
source : www.pillarboxblue.com
DIP DYE OMBRE PILLOW CASE
I completed all the research, experimented with various fabric dying methods, and tried my absolute hardest to make it happen, but once I saw that it was not going to work, I went back to my original impulse to simply use paint. We've got a winner, people; it turned out just like I had anticipated dip dying would, plus it was a million times simpler. My favourite black ombre pillows are the ones that start out strikingly black and then fade away rapidly. I've observed these cushions with fondness.
source : www.acraftedpassion.com
IDEA FOR HARLEQUIN CUSHION
This plump and fluffy cushion is what you need if you want to bring comfort and style to your house. You can feel the soft, pleasant afternoon feeling while relaxing in your living room with this cushion. Created with care for your house, as a genuine present and giveaway for family and friends. This pillow case features a special diamond-shaped harlequin design. You may present your friend and coworker with this sophisticated and beautifully designed pillowcase. This is a throw pillow . You can place it anywhere in your house , it will go with any type of sofa or bed. Colors and fabric  used to make this pillow is amazing .
source : www.freshlypieced.com
POM POM TRIMMED CUSHION
If you want to strike a balance between rich colours and neutrals, this amusing cushion cover is the ideal option for you. It is a tonne of fun for kids' rooms and garden parties alike. A creative way to enliven any young child's bedroom is with our Pom Pom Pillow. This vivid throw cushion has a soft cotton fabric that is ideal for cuddling and is embellished all over with multicolored boucle poms. It's an absolutely cosily accent with plenty of interesting texture and cheery colour.
source : www.honestlywtf.com
IDEAS FOR SPROCKET PILLOW
Every couch or bed will look great with Sprocket Pillows. Choose simply a few colors to go with your home decor or combine several fabric patterns for a distinctive effect. By making these Sprocket Pillows with patchwork sides, you can now add your own burst of color to a space. You could adore some different cushion patterns. These are a quick and incredibly simple craft to complete using a fat quarter and a terrific way to use up leftover fabric. With some basic cutting and sewing, you can easily create this wonderful addition to your home's décor or for your pets. You may alter the wedge size to make it larger or smaller.
source : www.cluckclucksew.com