INCREDIBLE CANDLE CRAFT IDEAS
Candles are mostly used for their aesthetic value and aroma in the developed world today, notably to create a gentle, pleasant, or romantic ambience, as backup illumination during power outages, and for religious or ritualistic purposes. Making candles is a wonderful pastime you can do for both yourself and others. Creating your own candles allows you to create the aromas, designs, and colours that you desire at a lower cost than purchasing them from pricey retailers.
Candles do more than merely fill your environment with light and immerse you in lovely smells. They also have a lovely aesthetic quality and make lovely home décor pieces. Candles may help you create a cosy, inviting atmosphere in your house that you'll like going home to after a long day. You may fill it with either real or artificial flowers or  your jewellery collection.  Also, you may use paints or crayons to adorn your candles or anyway you desire.
DIY CHRISTMAS CANDLE
You're wondering how to make your house seem festive for the holidays without going over budget, right? Why not attempt a simple DIY decorating project? Use these simple DIY Christmas candle holders to produce some festive and lovely handmade decorations this holiday season. I enjoy adorning candlesticks. These are not only reasonably simple to make due to their small size (ideal for beginning crafters), but the serene light really fits the festive mood so perfectly. They'll look fantastic on your mantel, holiday table centrepiece, or wherever else in your house you want a little bit of a glow. Turn on some Christmas music, light a candle, and get in the holiday mood.
source : www.beafunmum.com
DIY IDEA FOR  MASON JAR CANDLE
The Mason Jar has seen several fashionable evolutions since it was first used as a canning and food preservation container. Among the DIY community and beyond, there is no shortage of fantastic inspiration, from Mason Jar sconces to Mason Jar iced coffee mugs. These Mason jar candles are a terrific place to start if you're trying to become artistic or are just looking to be inspired. Do you have additional Mason jars stashed away in the cabinet's back? Making gorgeous customised candles out of glass jars is an easy way to put them to new use. Whether you choose a gel candle or a regular soy wax candle, the procedure is easy and the end product is beautiful. Making mason jar candles is a creative approach to customise the interior design of your house.
source : www.somethingturquoise.com
DIY VINTAGE TEA CUP CANDLE
We adore a candle in an antique teacup. You won't believe how quick and simple it is to make either. Candles not only improve the visual appeal of any area, but they also have a variety of therapeutic advantages that help you unwind and reduce tension. Candles are available in a broad range of sizes, patterns, and smells, so it's simple to choose one that precisely matches your tastes. Make your own teacup candles if you want to step up the quality of your candles. This is a simple DIY project that you can complete in a few hours with supplies you probably already have at home.
source : www.mykitchenantics.blogspot.com
AROMATIC FRENCH VANILLA COFFEE CANDLE
You may improve your mood and relax your thoughts by lighting a candle that has the delectably sweet aroma of French vanilla coffee. It also lowers tension and anger. Stress and irritation are lessened. It stimulates the promotion of harmonious states. For you, your family, and any upcoming visitors or friends, it creates a cosy and relaxing environment for all. The timeless aroma that everyone adores is French Vanilla, which is sweet and buttery. You may offer it to your family members who enjoy coffee or vanilla either together or individually.
source : www.helloglow.co
DIY CRAYON BLOCK CANDLE
Look no further if you want to give your house a splash of colour! These color-block crayon candles are an excellent way to reuse broken crayons and make a beautiful touch to any home. The best part is that you just only a few common products. It is a surprisingly easy and affordable method of creating candles at home. Also, this candle's geometric patterns are absolutely original. Candles are the ideal decorative accent for any space. If you have children who are of school age, you presumably have a modest supply of crayons. You may make the crayon candles with your child. Because they are often non-toxic and affordable, crayons are excellent art tools.
source : www.brit.com
CLASSIC CHAMPANE GLASS CANDLE
On your special day, raise a glass to you with these themed champagne flute candle wedding favours. A double heart pattern on the clear glass top and pearl steam of these flute favours add decorative flair. creating the ideal favour for your wedding, bridal shower, engagement party, and other events. Even if you've never created a candle before, they are the most straightforward and beautiful champagne glass candles you can make. Gelly wax doesn't fracture or separate like beeswax or soy wax, and it doesn't need to be poured at a certain temperature.
source : www.onecrazymom.com
DIY CITRONELLA CANDLE
The presence of mosquitoes may completely spoil a lovely summer evening. The annoying bugs frequently appear out of nowhere and assault every exposed area of your skin, leaving behind unpleasant, itchy, and red bites that are enough to make you stay inside the entire season. Not to mention the potential for contagious illnesses to spread. Although while candles that repel mosquitoes are nothing new, they aren't necessarily the most attractive addition to your décor. The good news is that you no longer have to decide between comfort and a beautifully furnished room. These lovely mosquito-repellent candles will provide you with the protection you need from those dreadful bloodsuckers and add some much-needed atmosphere to your patio or deck.
source : www.gardentherapy.com
LOVELY VALENTINE GLASS CANDLE
Searching for a creative method to reuse the glass jars you've been storing or freshen up cheap candles? It's incredibly simple and enjoyable to make these homemade glitter candles. I was organising my Valentine's Day decorations when I discovered the materials for a craft I had planned to do the year before. On one of my most recent excursions, I had purchased these little candles from Ikea. They are inexpensive and excellent for decorating. I came up with the idea to decorate glass candles with glitter and hearts as Valentine's Day is soon. It's truly stunning.
source : www.practicallyfunctional.com
DIY GLITTER CANDLE HOLDER
Votive candles are an enjoyable, cost-effective way to liven up your decor without going overboard. This is cheap, entertaining, and the votives turned out gorgeous! Any colour glitter may be used for this, but I choose to go with the traditional gold. During Christmas, New Years, or anytime you host a gold-themed celebration, these gold votive candle holders are bound to make your table setting gleam. These are quite simple to construct. At Christmas, the New Year, or any other occasion, your table setting will gleam thanks to these easy DIY glitter candle holders! I particularly like that these votives are ideal for classy weddings as well.
source : www.thesimplycraftedlife.com
DIY HAUNTED CANDLE HOLDER
Halloween and crafts are two of my favourite things, so creating a DIY Halloween craft was just up my alley. At least for me, the holidays usually arrive much sooner than anticipated. Does this also apply to you? Every year around Halloween, the first of October and the next day of October are the same dates. simply like that! It's really odd. Maybe you recognise this. If you haven't begun making Halloween decorations or projects yet, you're probably rushing like I am. Sincerely, the last-minute decorations I prepared the year before are my favourites for the current season. I hope I'm not coming across as a complete jerk. Halloween projects are my favourite, but I'm never prepared.
source : www.ohmy-creative.com
MESMERIZING DIY PRESSED FLOWER CANDLE
Have you ever used pressed flowers to adorn a candle? Pressed flower candles are wonderful presents for friends or a lovely accent to a table setting or home décor arrangement. These candles include pressed flowers and look lovely in any space. When you realise how wonderful this metamorphosis is, considering how little money was spent and how difficult it was, you will be proud of yourself. The process of crushing flowers for weeks, placing them delicately in moulds, and then meticulously covering them in wax to produce candles seems to need a lot of talent and patience. Yet, it really doesn't take that long.
source : www.web.archive.org
DIY SEASHELL CANDLE
Seeing a big, entire shell on the beach is even more exciting, and no beach trip is complete without a walk in the sand to look for seashells. So what will you do with your beach finds when you get home? To bring your vacation memories into your house without having to put them in a jar, make DIY Candles in Seashells. These handcrafted seashell candles are the ideal way to give your house a beachy, summery feel. They provide a dreamy, romantic touch to your decor and are ideal for summer table settings.
source : www.sheknows.com
NO-WAX CANDLE
With the cosy warmth of a candle, brighten your life. Candles provide an atmosphere of cosiness and romance, add calming smells, and brighten any place by chasing away the darkness with a flickering light. Although the idea behind vegan candles is straightforward, there is a huge variety of plant-based candles available. Are the candles you like vegan? The kindest vegan candle alternatives for home décor, holidays, birthdays, and pleasant fall sentiments are listed below. There are wonderful organically natural scented candles, tea lights, traditional taper candles, and more to choose from.
source : www.macgyverisms.wonderhowto.com
SWEET CANDY CANE PEPPERMINT CANDLE
Create this simple handmade peppermint candle project so that you may use it for personal use or to give as a homemade Christmas gift. Naturally, the peppermint scented candle smells amazing, but it also has a lovely design with layers of red and white that alternate. This handmade soy candle is easy to create, but it does take some perseverance. It takes time to solidify before you apply each additional layer to create the red and white candy cane stripes. The project can be finished in a day or more, but you will spend very little time actually making.
source : www.livinglavidaholoka.com
DIY TIN CAN HANGING CANDLE HOLDER
On warm nights or over a warm fire, we are spending an increasing amount of time outside with family and friends. Consider having a private discussion as flickering candles light up a patio or porch. This easy candle holder craft is perfect for a family or group activity because it uses recycled cans. Tin can recycling to create hanging candle holders is such a sweet concept. These appear to be really lovely and distinctive! The concept of hanging the tin cans from a clothes hanger appeals to me as well. Making a lovely piece of home décor is extremely easy and affordable.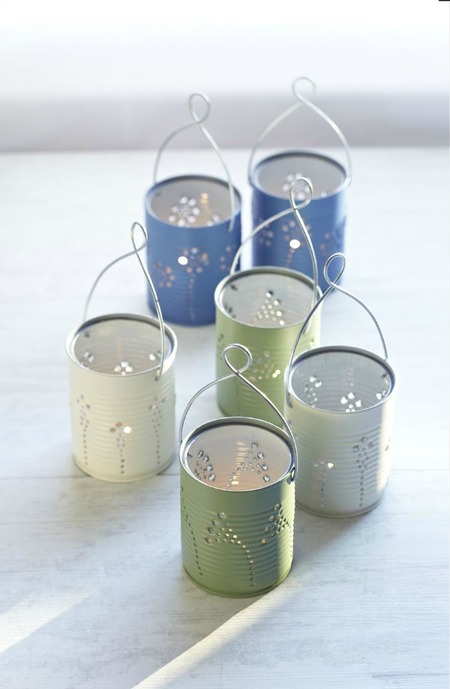 source : www.craftfoxes.com